Registry growth thanks to monetary donations
Monetary contributions from private and institutional donors secure the expansion of the blood stem cell donor registry. In 2018, a total of CHF 1 236 500 was donated.
Funds to pay for new registrations are not provided within the framework of Swiss Transfusion SRC's mandate from the Swiss government: Swiss Transfusion SRC has to cover these costs itself. The more successful we are at growing the registry, the greater our need for funding becomes. To meet it, we rely on funds from private and institutional donors. They secure the expansion of the registry.
Donations passed the million-franc mark for the first time ever in 2018: private and institutional donors provided a total of CHF 1 236 500 in donations, a 41.1 per cent increase over the previous year's total (2017: CHF 874 767). Private individuals, associations and businesses donated a total of CHF 841 600; CHF 394 900 came from foundations.
Loyal donor pools
Donations in the public fundraising area totalled CHF 841 600, up 72.7 per cent over the previous year (2017: CHF 487 167). Once people have a connection with blood stem cell donation and become aware the issues involved, they show themselves to be very generous. Many of the donors who gave money to support blood stem cell donation in 2018 did so more than once that year; thanks to them, total funds received in 2018, at CHF 358 186, far exceeded those of the previous year (2017 direct marketing income: CHF 142 200).
We hope to expand this circle of loyal financial supporters in the future. All the more so because the age limit for newly registering donors will be lowered to 40 on 1 April 2020, and younger people are less disposed to contribute to the costs of their registration. In 2018, we received a total of CHF 264 890 in contributions from people registering as donors (2017: CHF 224 800). Nearly 23 per cent of all new donors contributed to the costs of their own registration (2017: 18%).
Two sponsored runs held in 2018 by the student association Marrow deserve a particular mention, having taken in around CHF 62 000, as does the first crowdfunding project set up by a former patient (CHF 14 000). One promising area is that of digital tools that individuals can use to reach out personally to people in their circle of friends and encourage them to donate. Since late 2018, Swiss Transfusion SRC has had a simple tool that people can use to collect individual online donations (www.inspire-now.ch).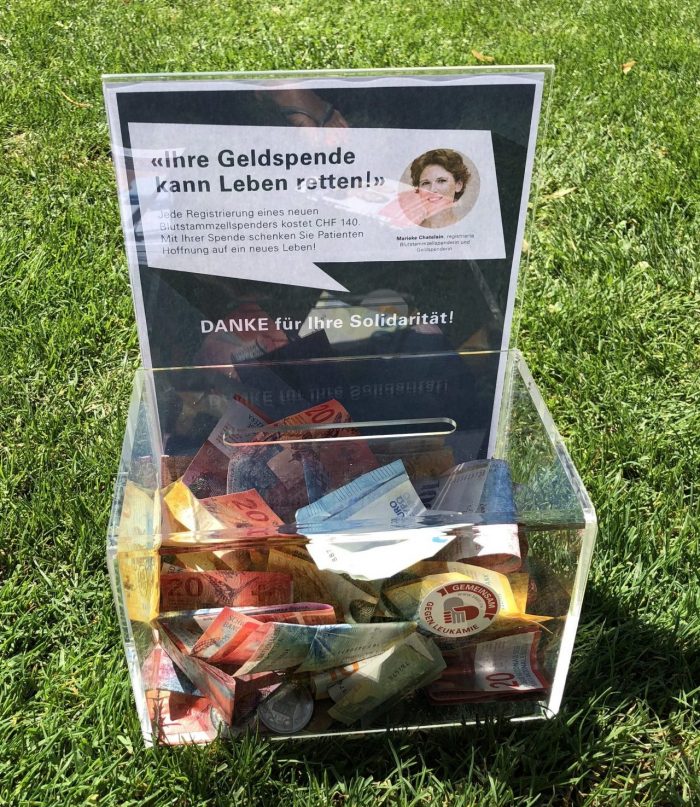 Foundations ensure continuity
In the institutional fundraising area, total contributions amounted to CHF 394 900 in 2018, and were thus slightly above the previous year's total (2017: CHF 387 600). The German-speaking part of Switzerland was the source of 66 per cent of that income, 23 per cent came from Western Switzerland and 11 per cent from the Principality of Liechtenstein.
Once again, the foundations proved themselves to be reliable benefactors despite the continuing difficulty posed by low interest rates. They play an essential role in sustaining blood stem cell donation. In 2018, a number of them took us up on our offer to visit the transplant centres in Zurich and Basel to convince themselves of the sustainable impact of their investment first hand.
After a three-year waiting period, Swiss Transfusion SRC was able to submit another application to the cantonal lottery funds at the end of 2018.
Situation increasingly difficult
The costs of registering of a new donor, which are not covered by the government, currently total about CHF 140. One can expect 12 000-15 000 new registrations per year, the 2018 figure was 14 566. In the years to come, the new recruitment strategy will have a big impact on the acquisition of funds. Reports have shown that younger people are less disposed to donate than older adults. It is therefore essential to develop new ways to make donations and to motivate both existing and new private and institutional donors to make financial donations.