Change as a constant
The only constant in medicine today is rapid change; one new scientific finding rapidly follows next, each having an influence on therapeutic procedures. A case in point: a CAR-T cell product that can be used to treat certain leukemia cases was approved for use in Switzerland in 2018.
There have also been major advances in blood stem cell transplantation itself in the few decades the procedure has existed. It is now possible to treat the side effects from blood stem cell transplants more effectively; we are gaining a more nuanced understanding of the issues. We now know that transplant material collected from young people is associated with better survival rates for patients.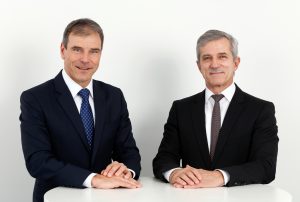 Dr. Bernhard Wegmüller, Managing Director and CEO, and Prof. Dr. Thomas Zeltner, President of the Board of Directors Swiss Transfusion SRC
This finding was one of the factors that prompted us to analyse how we can continue to offer patients the best possible donation in the future. This has resulted in a new recruitment strategy. The most obvious change: a lowering of the age limit for newly registering donors from 55 to 40. The Swiss registry, which celebrated both its 30th birthday and a phase of rapid growth in 2018, plans to continue its success story by rapidly transferring new findings from medical research to routine clinical practice.
New developments in blood transfusion as well: a panel of experts having evaluated the risk of hepatitis E transmission through a blood transfusion, as of 1 October 2018 all blood products in Switzerland are now also tested for hepatitis E. This affords better protection to immune-suppressed patients, for whom the hepatitis E virus poses a particular risk.
The blood supply division is funded solely through the sale of its products to hospitals. This division receives neither state funds nor financial donations, unlike the blood stem cell division, for which a mandate from the Swiss government exists. In light of this, we are following with great interest the further steps towards the implementation of a parliamentary initiative to have supplying blood to the population declared a federal task. The initiative obtained Council committee approval last year, and draft legislation is being currently being prepared.
Prof. Dr. Thomas Zeltner
President of the Board of Directors
Swiss Transfusion SRC
Dr. Bernhard Wegmüller
CEO and Chairman of the Management Board
Swiss Transfusion SRC
From Dr. Rudolf Schwabe to Dr. Bernhard Wegmüller
Dr. Rudolf Schwabe retired last year, after nearly 20 years of service at the head of the umbrella organisation Swiss Transfusion SRC. The Board of Directors elected Dr. Bernhard Wegmüller as his successor. The changeover took place in September of 2018.
The focus has always been on the welfare of patients

Dr. Bernhard Wegmüller
61
collections of blood stem cells from unrelated donors
Learn more »
30
years of the Swiss blood stem cell donor registry
Learn more »
HIGHLIGHTS
Highest seal of approval
for the Swiss registry
Learn more »
2018
Time with the family
thanks to a blood donation
Learn more »